Toxic substances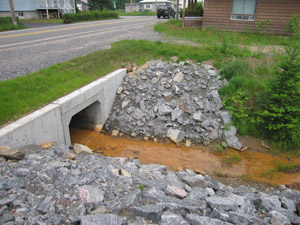 The number of chemical products in commercial use in Canada is currently estimated at around 70 000. Many of these products end up in the environment.
Some of the toxic substances present in our environment have been known for a long time, such as PCBs, DDT and dioxins and furans. Others have been recognized only recently, and are therefore referred to as emergent contaminants, or contaminants of emerging interest. They include brominated flame retardants (PBDE), plasticizers (phtalates and bisphenol A), waterproofing agents (PFOA, PFOS, etc.), medication and personal care products, etc. Joining these compounds as environmental contaminants are certain metals, which are naturally present in low concentrations but can far exceed toxicity thresholds as a result of human activities.
Analyzing toxic substances in the environment is time-consuming and expensive. For this reason, the monitoring of these products cannot be done with recurrent sampling across vast networks. Instead they are monitored through special, short-term studies focused on specific objectives, territories or problems.
Monitoring in aquatic environments
Publications
To protect the population from the possible toxic effects of contamiants in the flesh of fish, the Ministère du Développement durable, de l'Environnement et des Parcs and the Ministère de la Santé et des Services sociaux have together produced a Guide to the consumption of freshwater fish from sportfishing, applying to all of the inhabited territory of Québec. n
Here is a list of studies published by the Ministère since 2002 on the presence of toxic substances in aquatic environments:
2020
2018
2017
2016
2015
2014
2013
2012
2011
2010
2009
2008
2007
2006
2005
2004
2003
2002