Annual sector air quality index statistics for 2004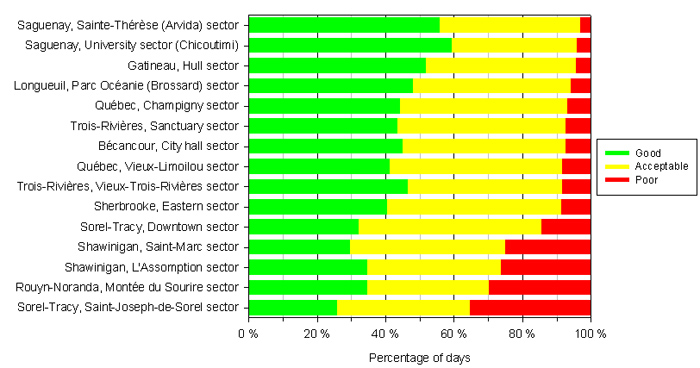 In 2004, the AQI was calculated for 15 urban sectors, where air quality varied significantly. For a number of sectors, the percentage of days during which air quality was "poor*" rose above 10% (approximately 36 days a year). For some, this percentage exceeded 30%, such as in the sectors of Saint-Joseph-de-Sorel in Sorel-Tracy (127 days out of 359) and the Montée-du-Sourire sector in Rouyn-Noranda (approximately 100 days out of 332).
Unlike regional statistics, which are based on uniform measurements of fine particles and ozone, statistics for sectors may include measurements of a pollutant that is emitted locally and which is not included in regional statistics. This means that the AQI value for a sector may differ from the index for the overall region.
Local sources of air emissions that affect a sector's AQI can vary from one location to another.
* Occurs where the concentration of fine particles is above at least 35 µg/m3 (over a three-hour period) or the hourly ozone concentration is above at least 82 ppb at at least one station in the region.