2017 Annual Regional Air Quality Index Statistics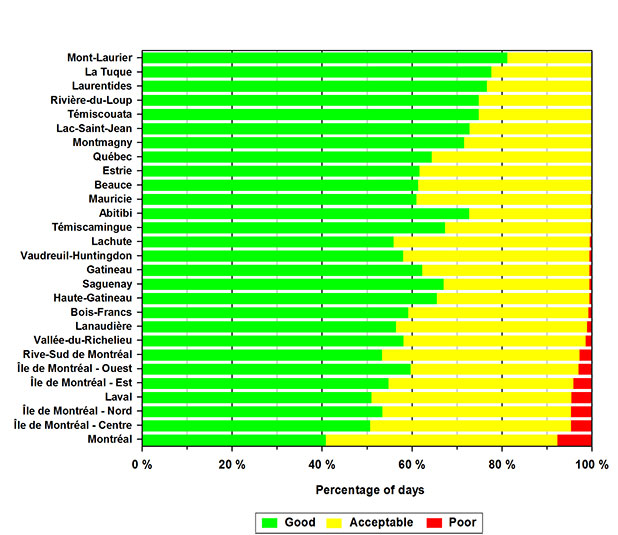 The Air Quality Index (AQI) was calculated for 24 weather regions in 2017, with Montréal subdivided into four sub-regions.
The percentage of "Good" or "Acceptable" AQI days varied from 92% in Montréal (337 out of 365 days) to 100% in the Mont-Laurier, La Tuque, Laurentides, Rivière-du-Loup, Témiscouata, Lac-Saint-Jean, Montmagny, Québec, Estrie, and Beauce regions.
Air quality was deemed "poor"* most often in Montréal in a proportion of 8% (28 out of 365 days). This is a slight increase over the 2016 result of 5%.
Overall, the AQI was "good," "acceptable" or "poor" in the following proportions: 63%, 36% and 1%. Compared to 2016, the proportions of the AQI figures remained virtually the same.
*This is the case when the concentration of at least one of the contaminants used to calculate the AQI is greater than the hourly reference value at any one of the regional stations.