2015 Annual Regional Air Quality Index Statistics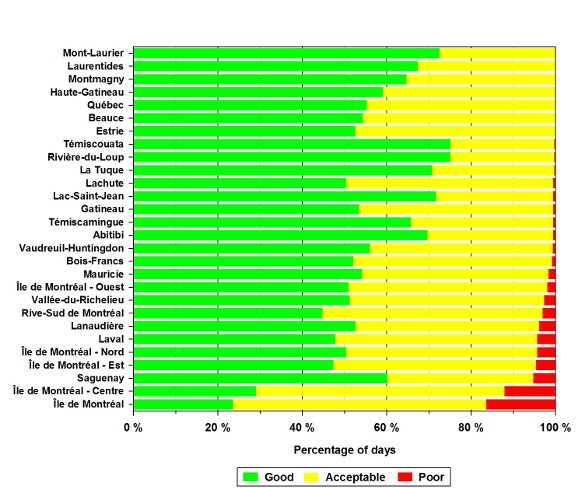 The Air Quality Index (AQI) was calculated for 24 meteorological regions in 2015, with Île de Montréal subdivided into four sub-regions.
The percentage of "Good" or "Acceptable" AQI days varied from 84% on Île de Montréal (approximately 305 out of 365 days) to 100% in the Estrie, Beauce, Québec, Haute-Gatineau, Montmagny, Laurentides and Mont-Laurier regions.
Air quality was most often "Poor" in the Île de Montréal region, with a 16% rating (60/365 days). This result was identical to observations for 2014.
Overall, the number of days when AQI was rated "Good" came to 56%, while the figures were 42% for "Acceptable" and 2% for "Poor." These results were identical to 2014. In comparison with 2013 figures, the number of "Good" AQI days increased by 3%, while "Acceptable" days dropped by 2% and "Poor" days fell by 1%.
*This is the case when the concentration of at least one of the contaminants used to calculate the AQI exceeds the hourly reference value at a minimum of one of the regional measuring stations.