Annual regional air quality index statistics for 2012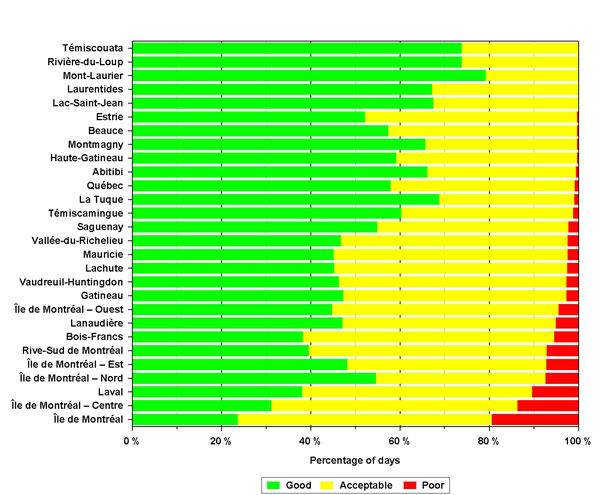 In 2012, the AQI was calculated for 24 weather regions, with the island of Montréal subdivided into four subregions.
The percentage of days when the AQI was deemed « good » or « acceptable » ranged from 81% in Montreal (approximately 290 days out of 360) to 100% in Lac-St-Jean, Laurentides, Mont-Laurier, Rivière-du-Loup and Temiscouata.
Air quality was deemed "poor" most often in Montreal (19% of the time, or 70 days out of 360, which is a 12% decrease in comparison with 2011).
Overall, air quality was "good", "acceptable", or "poor" in the following proportions, respectively: 53%, 43%, and 4%. Compared to 2011, "acceptable" AQI slightly increased—by 1%—while "good" AQI ratings diminished.
A new generation of devices for measuring fine particulate matter was progressively installed throughout the network between 2008 and 2010. These new instruments measure some particulate matter that could not be detected in the past. Therefore, one must be cautious when interpreting the evolution of the data, especially since fine particulate matter is often the pollutant responsible for higher AQI values. Increases in the number of days where air quality was deemed "poor" or "acceptable" do not necessarily imply that the air quality has deteriorated in comparison with previous years.
* Air quality is deemed "poor" when at least one station in the region reports a concentration of fine particulate matter greater than 35 µg/m3 (over a three-hour period), or an hourly concentration of ozone greater than 82 ppb.