Annual regional air quality index statistics for 2007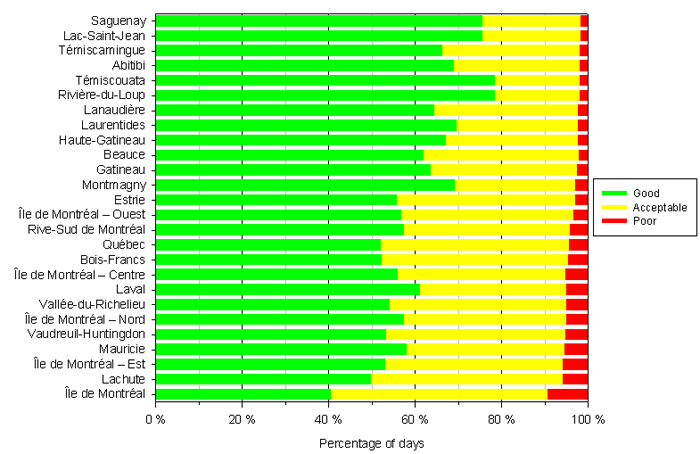 In 2007, the AQI was calculated for 22 weather regions, since the Montréal Island is divided into 4 subregions.
The percentage of days for which the AQI was deemed "good" or "acceptable" was above 90% in all the regions covered, a first since the program was implemented. It varied between 91.1% and 98.3%. As in previous years, air quality was deemed "poor*" most often on the Montréal Island, with 9.3% (34 days out of 365, the poorest recorded since 2004).
In 2007, this percentage was 1.9%, or 172 hours out of 8,755 valid hours, a figure that was slightly lower than figures for 2006.
The further away the regions in question are from Montréal, the better the air quality, regardless of direction.
* Occurs where the concentration of fine particles is above at least 35 µg/m3 (over a three-hour period) or the hourly ozone concentration is above at least 82 ppb at at least one station in the region.